News on the Overview view of Google Ads account
The overview view is a basic overview of Google Ads accounts. Based on user feedback, Google has introduced three innovations in the overview view. The first news is that the recommendations in the account can be applied directly from the overview view and that the optimization score is displayed. The second novelty is the creation of campaigns from the overview view, while the third option is the Download overview page and individual tabs that will facilitate the use of downloaded data.
Source: https://support.google.com/google-ads/answer/9955167
Manager accounts have become available in the Google Ads mobile app
In early July, manager accounts became available in the Google Ads mobile app to help manage Google Ads accounts. Using this option it is possible to:
detect trends and performance for all accounts on the overview page
improve performance using optimization score and prioritize recommendations on all accounts
manage campaigns and compare campaign implementation across accounts
use push notifications for all accounts
As part of this upgrade, changes have been made to the mobile app, making it easier to use and navigate between accounts, campaigns, and ad groups.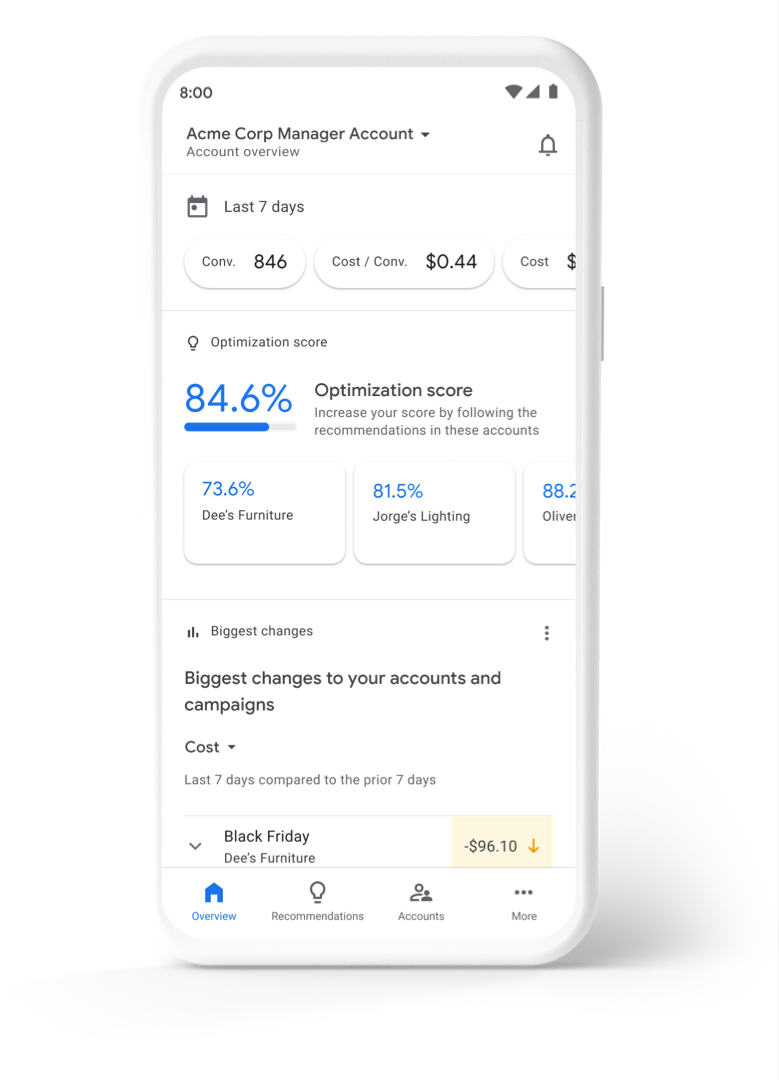 Source: https://support.google.com/google-ads/answer/9954561
The deadline for introducing parralel tracking for video campaigns has been extended to March 31, 2021

Source: https://support.google.com/google-ads/answer/9975738
Extended misrepresentation of Google Ads policies to better prevent Clickbait advertising
The purpose of digital advertising is online access to accurate and quality information. By clicking on the ad, the user should get clear and credible information. Precisely because of this, Google has expanded its advertising policies to prevent clickbait and sensationalist ads from appearing. The new rules will apply to ads that use tragedies, scandals, and embarrassment to force users to click on the ad immediately. The advertising policies for such news used to be regulated by a combination of various Google Ads advertising policies, but now a new Clickbait policy (source: https://support.google.com/adspolicy/answer/6020955) has been developed to clarify which type of advertising is not allowed and thus making it easier for advertising users to comply with their ad policies.
Source: https://support.google.com/google-ads/answer/9984360
New look for responsive display ads
Google has improved the look of responsive ads with new creative layouts, automatically generated videos, and more attractive ads that will allow users to convert more. Three new layouts for responsive ads have been introduced that include smart image cutting and multi-layered text ads.
Users love the video, and in support of this is that over 60% of customers (source: https://www.thinkwithgoogle.com/data/online-video-shopping-statistics/) claim that the video gave them an idea or inspiration to buy. Adding a video to a responsive display ad can result in a 5% increase in conversions per similar CPA. Since many advertisers don't have the time or knowledge to create videos and to simplify and speed things up, Google has introduced the option to automatically create videos using existing images and text descriptions. Just decide and indicate if you want auto-generated video when creating ads.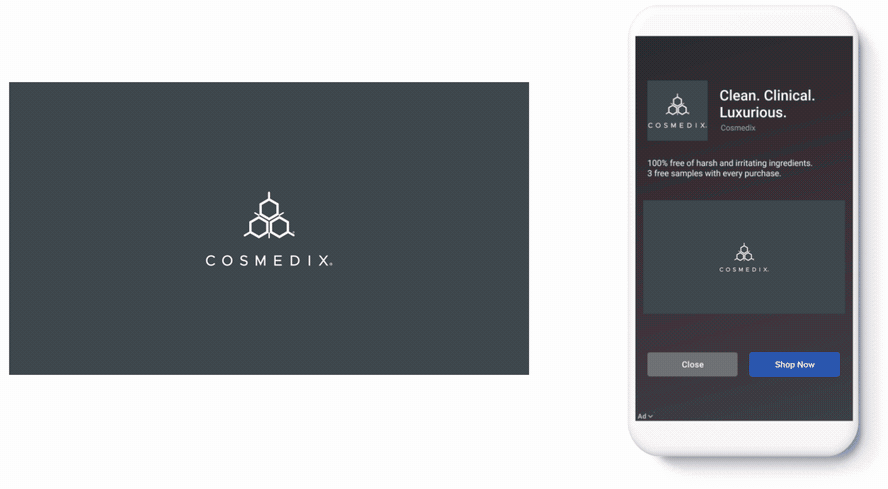 Also, a new single image layout has been added to the dynamic display ad, but also new ad formats in which the company name will be displayed next to the logo. It's best to see what this will look like in the example:
New options in Smart Shopping Campaign
The trend of online shopping is on the rise, especially after the epidemiological situation we have in the last few months. 25% of people shopping in the U.S. said they would continue shopping online and avoid visiting physical store locations even when all stores reopen. That is why Smart Shopping campaigns are being improved to provide users with the best possible experience, which in turn will result in more sales with advertisers. So the novelty introduced in smart shopping campaigns is setting conversion value for new customers.
Advertisers who used this option in beta had great results, so the IT Cosmetic brand, which sells make-up and skincare products, added that goal to its campaign and recorded a revenue increase of 188%.
The visual appearance of the ad has also been improved, for example, if the user generally searches for furniture and sees the ad:
After further search, the user decides to narrow the search to chairs and will be shown more relevant products:
When the customer is ready to buy, he can see annotation for example free and fast delivery to help him make a purchase decision (currently only available in the US). Advertisers who used this option had a 9% conversion rate increase. More different types of annotations will be available soon.
Of course, there is also the possibility of highlighting promotions on products to 'convince' users to make a purchase, and according to research, such promotions bring a 28% increase in the conversion rate
New options for responsive search ads
According to the survey, advertisers who use responsive search ads record 10% more clicks and conversions. To further enhance this type of ad, Google has introduced new features. According to the survey, 91% of smartphone users make or plan to purchase after seeing a relevant ad. To gain on the greater relevance of responsive search ads, a location insertion option has been introduced that is automatically added depending on where the product or service is advertised. When placed, the ad will automatically show the city and state according to the location of the potential customer to whom the ad is displayed.
Also, the option of countodown customizers has been introduced, which can be used to promote the sales deadline in responsive search ads.
To make it easier to create ads with more relevant information, such as the ability to purchase, Google has added this option – when creating ads, titles such as purchase options, delivery, and the like will be automatically suggested.
To save time for creating reports, the option of cross-campaign asset reporting has been added, and it is also possible to get an insight into several assemblies (for example titles) at once and make decisions on pausing some or adding new ones.
New recommendations have also been added to improve the performance of responsive search ads when ad strength is marked worse than 'good'. This option will soon be available in Google Ads Editor.
Source: https://support.google.com/google-ads/answer/9970276
Google Ads Editor 1.4 .: Support for recommendations and local campaigns
Google Ads Editor 1.4. is a new version that includes recommendations and local campaigns. Recommendations have been around for some time in the Google Ads interface, and are now available in the Editor as well.
They are sorted by type to facilitate use. Before applying, for example, to responsive search ads, it is clear how many accounts and campaigns will be affected by the changes.
Google Ads Editor also now supports local campaigns to make changes easier.
New on manager accounts – optimization score and recommendations
The recommendations score is now available to ma manager accounts for that 1,000 Google Ads account.